Coimbra Group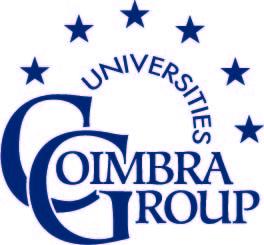 The Coimbra Group (CG) is a European association consisting of thirty-seven of the oldest and highest-ranked European multidisciplinary universities. Founded in 1985 and formally constituted by Charter in 1987, the Coimbra Group gathers long-established European universities of high international standard committed to creating special academic and cultural ties in order to promote, for the benefit of its members, internationalisation, academic collaboration, excellence in learning and research, and service to society.
It is also the purpose of the Coimbra Group to influence European education policy and to develop best practice through the mutual exchange of experience. The Coimbra Group has a number of thematic and geographical groups, consisting of a number of dedicated and highly professional university staff members with a large experience of policy and project work.
The Coimbra Group was among the earliest associations to develop fully-fledged Erasmus Programme activities, and has decades of experience in the exchange of researchers, teachers and students. The Coimbra Group Office co-ordinates activities among CG universities and manages co-operation with other similar organisations at European as well as international level. For over 10 years the Coimbra Group Office has been managing its own scholarship programme for young researchers from the European Neighbourhood, Sub-Saharan Africa and Latin America.